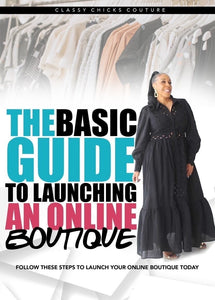 ClassyChicksCouture
The Basic Guide to Launching an Online Boutique
The Basic Guide to launching on line boutique discusses everything you need to know to starting and launching your online store or offline. This book will explain how to :
Select a Business Name 
Select your Domain Name 

Filing an EIN # 
Apply for a Sellers Permit 
How to obtain a business bank account 
Searching for Wholesale Vendors 
Branding & Marketing 

Start your business today! When you purchase this boutique also add the wholesale vendor list to cart and get it for free using code Freelist.
---
More from this collection